Press Release
IGMG Secretary General Altaş visited refugee camps in Lebanon
02. April 2022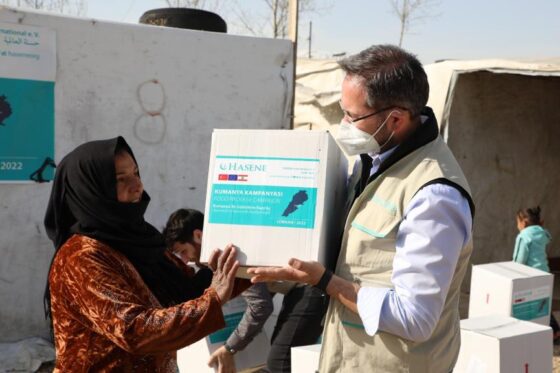 Bekir Altaş - Geflüchtetenlage Libanon
"With all the concern for the refugees from Ukraine, we must not forget the people in Lebanese refugee camps." warned Bekir Altaş, Secretary General of the Islamic Community Millî Görüş (IGMG), during his visit to the refugee camps in Lebanon, as part of a humanitarian aid delivery by the IGMG together with Hasene. Bekir Altaş continued his words as follows:
"As right as it is that we are currently focusing on taking in and caring for refugees from Ukraine, it is at the same time wrong to neglect people in the Lebanese refugee camps, for example. These people have also fled war for fear of their lives. Women, children and the elderly have been living for many years in makeshift accommodation and under inhumane conditions.
The lack of water, food and health care make life in these camps unbearable for the people. The biggest problem, however, is the lack of future prospects. The people do not know how long they will have to stay in these camps, whether there will be a future in peace and a dignified life for them and their children.
The international community, Europe and each individual member state are called upon to offer these people a perspective, be it by taking them in or by providing them with adequate care. Providing people with jobs, an opportunity in life to stand on their own feet and education for children means a lot. So far, rich industrialised nations have outsourced their responsibility by paying scarce money and look the other way. This does not correspond to our understanding of responsibility.
In personal conversations, many Syrians and Palestinians who have been living in Lebanese refugee camps for many years have assured me that they want to return to their home countries as soon as peace is restored there and they do not have to fear for the lives of their families. They said that fleeing to Europe is the last resort for them when nothing else works. But many different factors including the living conditions and the lack of alternatives drive young people in particular to make the perilous flight to Europe. Their appeal to us, on the other hand, is crystal clear: "Don't forget us, we are human beings too!"
[supsystic-social-sharing id="1"]